Heavenly Whipped Body Butters
Look, Smell and Feel Absolutely Beautiful in our Heavenly Whipped Body Butters, made with Organic and Unrefined Shea Butter, Cocoa Butter and Mango Butter.
Shop Now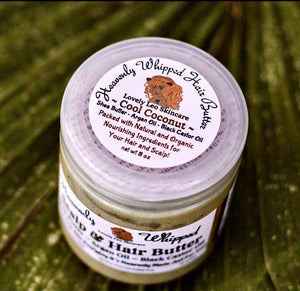 Heavenly Whipped Scalp & Hair Butter
Our scalp and hair butter is amazingly light and will not weigh down your hair, leaving your hair feeling nourished and healthy with an amazing sheen.
Shop Now
Organic Dry Face Clay Masks
Harness the power of Turmeric and other amazing ingredients in our Organic Clay Masks.
Shop Now
Heavenly Whipped Facial Cream
Revitalize and rejuvenate your skin with our anti-aging Heavenly Whipped Mango Butter Facial Cream.
SHOP NOW
Lovely Leo Waistbeads
Accentuate your femininity with crystal, glass and gemstones bringing peaceful energizing balance with Lovely Leo Waistbeads!
Shop Now
Heavenly Jewelry
Accentuate your everyday with jewelry, crystals, Seamoss and so much more.
Shop Now
The Lovely Leo Pride (family)
"These products and the woman who creates them is 100% AWESOME!!!! I have over 4 containers of different body butter flavors and each of them come exactly as described. It's perfect and consistent. Heavenly whipped, smelling great and locks in the moisture so very well. These products maintain my natural glow VERY well. It's really great on my skin. Makes a great gift too. I LOVE there products!"

Ty Blue
"Let me just tell you…. this product is amazing!!! It smells delightful! Lovely was such a pleasure to deal with! She is a consummate professional! I am in love with this Coconut Passign Body Butter! I will make sure to purchase over and over again! Thank you, Lovely, for your awesome customer service and quality product!"

Drusilla C.
"Hi there I am uncertain as to how to write a review but I wanted to tell you personally your products are great. I used it after a nice evening shower and I will let you know you have a customer for as long as you are producing. I have a body wash and the chocolate marshmallow body butter is absolutely lovely!!!! I will continue to support because I can tell the love that went into your product. Can't wait to try something else."

Madam_Antoinette
"Thank you so much for being an amazing woman and pouring amazing energy into your products! I Definitely deal with dry skin and it is the worst in the winter and your products are a lifesaver!! ☺️ supporting you is a no brainer because your products are amazing and worth every bit of money! Keep pushing because your products are one of a kind."

Tara C.
Add customer reviews and testimonials to showcase your store's happy customers.

Author's name